The life of the hashtag when it comes to Linkedin has truly been like a roller coaster. When hashtags first became popular around 2013 Linkedin was part of the "in crowd" and implemented them as a feature. However, they weren't popular among users and were taken away that same year. Three years later in August of 2016 Linkedin decided to give the hashtag another try. Initially being rolled out for just mobile devices, and eventually to desktops as well, hashtags became and still are a clickable portion of a status update. Linkedin has even implemented hashtag suggestions to populate when you finish writing a status update, but before you click the "post" button.
But here is the important news as to why hashtags have just become 10x more important on Linkedin. You can now follow hashtags! So, you can now have content featuring a specific hashtag populate on your feed by following it. This makes the use of hashtags more important because this new feature increases the visibility of content with a specific hashtag. If you look at the image below you can see I already started following #Marketing.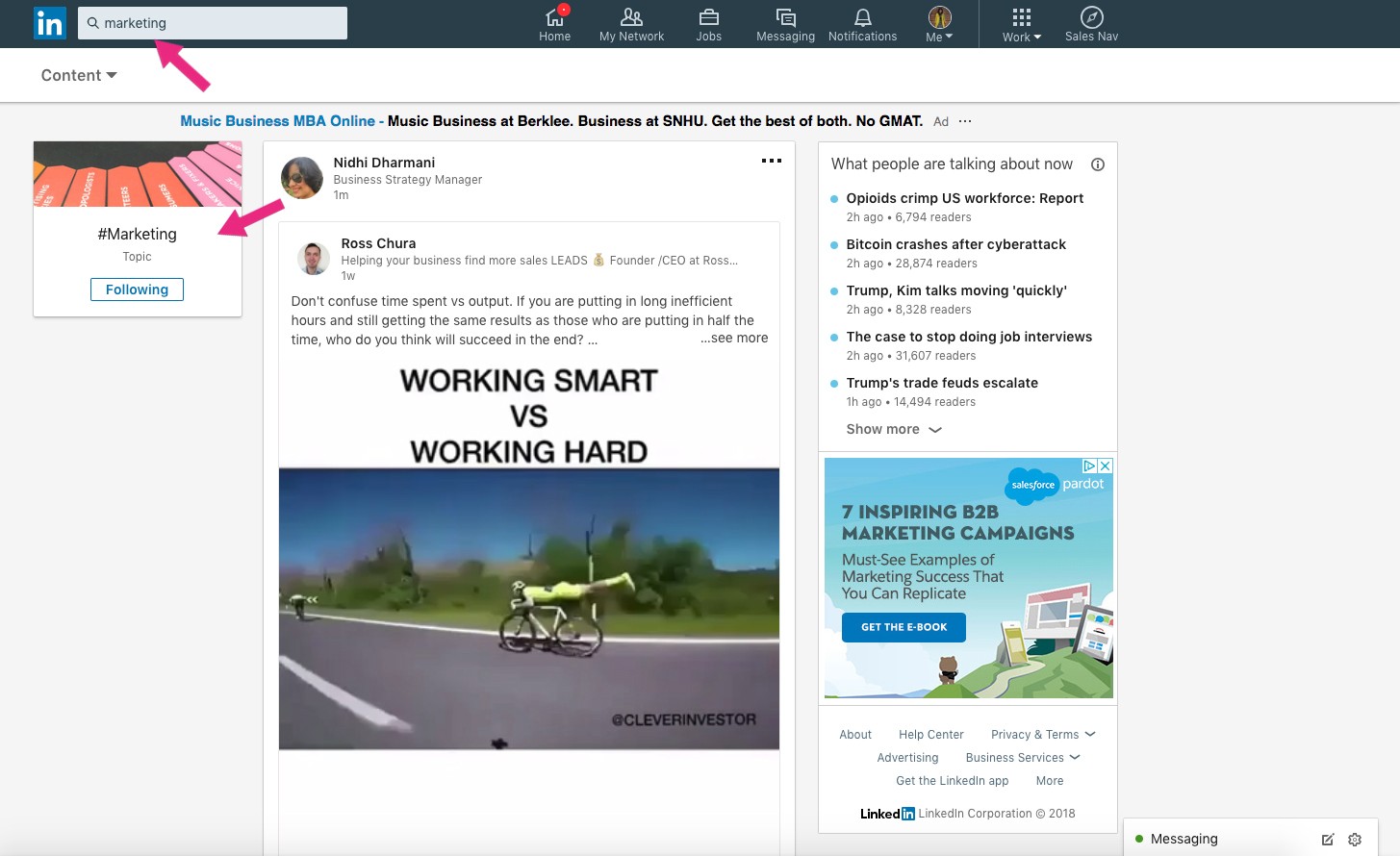 If you would like to follow some specific hashtags all you have to do is:
Search the topic you're interested in
Click "Content"
Look to the top left of your screen and you should see the option to follow the hashtag of the topic you searched
If you are on the Linkedin mobile app follow steps 1 and 2 but instead of looking to the top left, look at the top of the page and you will see the option to follow that topic's hashtag.
Here's what a few other people are saying on the subject:
https://twitter.com/fazalmarakkar/status/1005756409726857216
https://twitter.com/DigitalReflow/status/1006213239523430400
https://twitter.com/ThisisSaltmarsh/status/1006199664268529665
LinkedIn attempts to improve content discovery with follow hashtag options https://t.co/sxJ9rHAGXS pic.twitter.com/rkcADIrJ7a

— Anu (@BirdTattooGirl) June 11, 2018
What hashtags do you plan to follow? Let me know on social media!
Whitney is the Marketing Coordinator at ClearView Social and a recent graduate of The University at Buffalo. When she isn't cranking out visual social media posts, she can be found gaming, editing and enjoying the gorgeous Buffalo Summer.  Click here for a free copy of our latest strategy guide, 10 Ways To Get Your Employees Sharing To Social Media