Clearview Social's Employee Advocacy Software
We make it easy for your employees to participate in promoting company content on social
The power of employee advocacy
Your best marketers aren't paid spokespeople, social media influencers, or even your most loyal customers. They're your employees.
Employee advocacy is often the best-performing social initiative, outperforming paid and organic social media campaigns and other social listening efforts. Consider some of these stats: 
An employee advocacy program can increase total social engagement for a brand by

at least 25% to 40%

.

More than 85% of employees

participating in an employee advocacy program said it positively impacted their careers. 

Brand messages are re-shared

24 times more frequently

when distributed on employees' personal channels, versus on the brand channel.
Employee advocacy software makes it easy to turn your employees into word-of-mouth champions of your brand, encouraging team members to actively share content on social media and recommend the brand to their networks. Employee advocacy humanizes your brand, providing an inside look at life at your organization. In turn, your followers perceive your company as reliable, respectful, and real.
Think about these factors:
Family members, friends, suppliers, and employees make up a significant percentage of your online audience. While the numbers help boost your authority, most of them are not your ideal clients.
LinkedIn limits the number of people who see content from business pages, but personal pages enjoy almost limitless viewership.
The fewer people who see your content, the lower the chances of going viral becomes or word of mouth marketing.
The average LinkedIn users on average gets 8x the engagement from sharing a post than the average share from a corporate page.
The Magic of Employee Advocacy Software
Think of the possibilities when you utilize internal communication to create a strategic sharing system. Recent LinkedIn statistics reveal that a typical user has 930 connections, while company pages often have 1,000. Now, imagine if you have 50 employees and 30 of them have LinkedIn accounts. Even if only half of them share your content, the process translates to almost 14,000 views. We call this phenomenon the spider web effect. The more people share your content, the bigger your reach becomes. And now with employee advocacy software that helps your employees share on social media more often, and at the best times, running an employee advocacy platform has never been easier.
Get your employees sharing on social media in no time!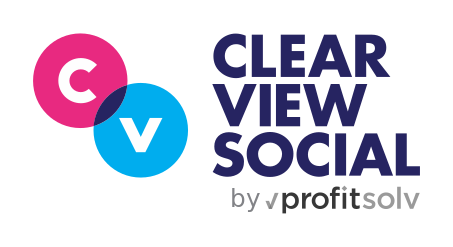 How does Clearview Social employee advocacy software work?
Your company can use employee advocacy software to make it easy and straightforward for your team to share content. Here's an overview of how our platform works.
Create Captivating Content
Clearview has tools to help you to find and create great content to share on your company pages and with your employees. Posts should capture, engage, and move audiences into action. You can create blogs, videos, infographics, e-books, and more to keep your audience wanting more. Employee advocacy thrives when you post great content and you make your employees look good by sharing!
Share the queue via email with your employees
In one click, employees can choose which content they wish to share on their personal channels
Schedule posts for peak times
Clearview Social's PeakTime™ AI picks the best time of day to post so your posts reach the maximum number of followers
Read reports and track analytics to see what's working and adjust your strategy
Key Features of Our Employee Advocacy Tool
Clearview Social's employee advocacy tool offers a suite of features to maximize the impact of your employee outreach.
Put your social media and employee advocacy initiatives on autopilot with tools like PeakTime™, Virtual Assistant, and our automated queue feature. Our proprietary smart scheduling algorithm uses AI to find the best times for your LinkedIn, Twitter, and Facebook posts to get the most attention. Automatically distribute your blog posts to employees in a newsletter to share, saving you time and driving high-quality traffic.
Clearview Social makes team collaboration easy, with the ability to plan, publish and schedule content to your company's social media accounts. Connect to as many Facebook pages, LinkedIn business pages, Twitter pages, and Instagram business pages as you like, with fine-tuned controls over who can post, what gets published, and when to post to company pages. Upload shared media assets to a library that can be accessed by the whole team.
Our employee advocacy tool's Chrome extension and content partnerships can help you find engaging, fresh content to share. Plus, RSS feeds allow you to link any webpage with RSS into Clearview Social. Constantly fuel your content pipeline with new and interesting stories.
Clearview Social is built for companies of all sizes, including large enterprises managing employees spanning multiple offices, departments, and functions. Robust enterprise features built into our employee advocacy platform make it easy to provision large groups of employees. Access controls and customization help you maintain compliance and security.
Find out what's working, and where you can improve your social media strategy with detailed analytics on your employees' participation. Track clicks, employee shares, content stats, and other employee adoption KPIs to continuously iterate and advance your outreach.
Leaderboard & gamification

Make it fun for your employees to take part in your marketing initiatives. Host social media contests, share a leaderboard of top performers, and reward participants with company swag or gift cards.
Benefits of Employee Advocacy
Trust has become a differentiator in today's business environment. There's no group more qualified to boost consumer trust than your employees. The increase in trust customers feel toward your brand can do wonders. Check out some of the benefits of employee advocacy.
Enhance Consumer Communications
There's a clear link between effective communication and the ability to build relationships with customers that result in long-term engagement and retention. Companies that communicate authentically with their followers lay the foundation for building trust with customers. Research from Edelman PR shows that people believe trust in a brand (88%) is more important than love (81%) when deciding what brand to buy or use.
A lead generated through an employee advocacy program is seven times more likely to close versus those from other sources (according to IBM). Consumers trust employees to be authentic about their experience. Your brand can capitalize on that trust and strengthen its sales pipeline simply by allowing employees to share more.
Nowadays, passive candidate pools far exceed active ones. If you want to attract the best talent who might not be looking for roles, it's best to use employee advocacy strategies. When your employees keep posting about your company's culture, potential hires get a peek from an insider's point of view.
Improve employee engagement
Nowadays, passive candidate pools far exceed active ones. If you want to attract the best talent who might not be looking for roles, it's best to use employee advocacy strategies. When your employees keep posting about your company's culture, potential hires get a peek from an insider's point of view.
The easiest way to increase your social media traffic.
Frequently Asked Questions
Everything you need to know about employee advocacy.
Below are some of the key performance indicators your team can use:
Apart from being your company's most valuable assets, your employees can also be your most reliable brand advocates. After all, no other group knows your company the way your workers do. Your advocacy program should provide employees with ample training, guidelines, and messaging to engage current and potential clients. However, it's best to learn how to measure the effectiveness of your strategy.
Employees Sharing Content
It's best to review how many workers participate in advocacy efforts. Getting such information can help you set goals and budgets accordingly. For instance, some organizations incentivize employees who perform such tasks.
Engagement Rates
Find out which tweets, blogs, or videos get the most engagement for your employees. It is essential to understand which content types your employees' social circles prefer.
Preferred Content Types
Sometimes, employees will not feel comfortable sharing certain content types. When you find out which ones they enjoy sharing, you can either diversify your content or focus on those that convert clients.
Landing Page Conversions
How many landing pages/webinars/or contact forms are filled out as a direct result of traffic from employee social media shares.
Earned Media Value (EMV)
This component estimates how much you would have to pay to reach the same number of audiences using other advertising models. These tasks can help you prove to company decision-makers that investing in employee advocacy is worth it.
Analytics
With Clearview Social, you get robust analytics about your posts and the engagement they receive. You won't need to use another app or site to measure your success.
For almost ten years now, we have been helping companies of all sizes and industries boost their online presence through employee advocacy efforts. We have developed and improved a few core best practices. Below are four of the most crucial ones.
Practice Content Marketing
Content marketing focuses on creating valuable online materials such as videos, listicles, case studies, etc. It helps organizations create value for clients, stand out against the competition, and boost consistent communications. This strategy will set you apart from the thousands of ads viewers see daily.
Keep It Consistent
To make the most out of your employee advocacy efforts, we recommend creating a sharing calendar. It is best to post at least once a week to remain visible and maximize the impact you make on your viewers. The marketing rule of seven states a potential client has to hear your message seven times before trying a product or service. For this reason, it is essential to maintain consistency in your posts.
Optimize Sharing Times
The best time to share content is during high traffic points on social media sites and not as soon as you finish your content. At Clearview Social, we have artificial intelligence (AI) called PeakTime to determine these periods for you.
Suggest Communication Points
Providing your team with content to share is a good stepping stone toward employee advocacy success, but it would be best to suggest communication points as well. For example, your employees can respond to comments or invite people to share their posts.
Can't find the answer you're looking for? Reach out to our team.
"Clearview Social is especially helpful for those marketers who have multiple responsibilities. A few minutes a week is all that I need to maximize my firm's social media presence."
Tammy Bouker
National Director of Client Services & Development
The easiest way to increase your brand's social media traffic