https://20899921.fs1.hubspotusercontent-na1.net/hubfs/20899921/Imported_Blog_Media/We-may-lose-money-on-every-sale___-1-Jul-25-2022-10-39-37-00-AM.png

Years ago, my family and I were in a near-fatal car accident. As we crested a hill in our van, traffic was stopped in front of us. I still remember the moment of decision, like slow motion, watching my Dad's white knuckles as he tried to decide if he should drive into oncoming traffic, smash into the vehicles stopped in front of us, or make the choice he did to swerve onto the side of the road clipping some road equipment that flipped our van, rolling us down the huge hill and ejecting five of our six family members from the vehicle.
Law firm management is faced with a similarly dangerous situation that requires decisive action. According to Altman Weil's Law Firms in Transition survey,
88% of law firms' leaders reported they have "chronically underperforming lawyers"
52% said their equity partners are not sufficiently busy
89% reported weak business development skills as the problem
59% blamed the problem on declining market demand
Bottom line: law firms are suffering from a major oversupply problem.
Perhaps even more insidious, according to Debra Weiss writing for the American Bar Association, is the inability of law firms to change. In 2015 only 44 percent of lawyers resisted change, now that number has risen to 65 percent. In the moment when firms most need to evolve to survive, partners are digging in their heels at an alarming rate.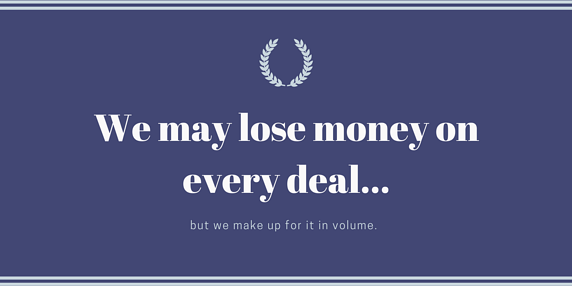 How can law firms correct the oversupply problem?
1. Require all partners with excess capacity to supplement missing billable hours with marketing and business development activities
I've spoken to legal marketers from more than 400 firms in the past three years and, in nearly every conversation someone says, "our lawyers are too busy to write/market/bring in business."
What this recent survey shows is that many lawyers may be unwilling to market, but they clearly have the time. Firms are businesses and, in any other business when numbers are down, efforts to sell and market must increase. Law firms are no different, but until firms require business development from underperforming partners, nothing will change.
Great business-development activities for partners going through a slow period include:
listing their twenty most influential contacts and meeting with each one
interviewing current and potential clients for blog posts
writing and blogging content that supports company goals
building out your social media profile
There are many other activities, but you get the idea.
2. Increase investment in business development training
In the Weil study, 89% of the firms reported "weak business development skills" as a major problem. Anecdotally, in talking to hundreds of firms, I've found that nearly half of them never invest in outside business development training. This is a missed opportunity. It's clearly time for law firms to upgrade these skills.
There are outstanding business development training programs offered by third parties in the legal industry, including The Ackert Advisory, Akina (A GrowthPlay Company), Knapp Marketing, LawVision and many others. Don't make the mistake of decreased expenditures in business development training because numbers are down. The opposite reaction—investing in business development training—is the rational choice.
3. Adopt new key performance indicators (KPI's)
Most firms have a laser focus on billable hours. Billable hours are the outputs. However, firms need to focus on the inputs, or "leading indicators," as well. One example of a leading indicator is the number of meetings with potential clients. A business mentor taught me that, "a metric measured is a metric improved." If law firms treated leading indicators with the same respect they treated their beloved billable hour, the result would be that both would increase.
4. Stop punishing successful business developers
The 80/20 rule predicts quite accurately that more than 80% of business in a law firms is generally brought in by fewer than 20% of the partners. If a lawyer is a member of the 20% club, they are still "feeding the firm" and should never be dinged for barely missing a billable hour target.
I heard a disturbing story of a bright young attorney that brought in more than a million dollars of business to his firm in a year but missed his billable hour target by 50 hours, therefore not making his bonus. This doesn't seem logical. Stop making poor decisions regarding compensation and acknowledge business-development wins.
5. Use competitions to motivate business development
Earlier this year, I spoke on a panel with the CMO's of three major law firms. Each had run competitions with extra incentives for the partners to increase their business development efforts. In every case, the competitions led to large increases—often six or seven figures worth—of new business.
You would think that these firms would repeat these contests yearly, right? Sadly, no. Even though these competitions were wildly successful, many were discontinued by the firms because they didn't seem fair to those not part of the competition.
Firms need to get creative if they want to change the behavior of their lawyers, and there isn't a quick fix. Changing behavior requires consistent, long-term commitments to innovation. Then, law firms need to stick out the process in order to continuously improve.
6. Make client visits mandatory
One CMO I spoke with told me that they have a goal to visit 1,000 clients by the end of the year. Their lawyers are incentivized with small prizes and the results have been unbelievable. They've found that, when lawyers visit their clients, they generally bring in new matters, meaning increased business. In fact, one new matter came in before the visiting lawyer even exited the client's building. I'd say that's time well spent!
Econssultancy.com's research shows that there is a 60-70% probability of success when selling to an existing customer as opposed to 5-20% chance when selling to a non-customer. Lawyers, visit your clients. Your existing clients know you, your firm, and your skill set. You have already established a trusted lawyer-client relationship. Build on that.
Conclusion
For my Dad driving the van, indecision would have been fatal. Law firms face a similar situation. If law firms want to see different results, they need to change the inputs.
Any other ideas for dealing with the oversupply problem? Feel free to share them in the comments or email me adrian@clearviewsocial.com.
Adrian Dayton is the Founder of ClearView Social, the easiest way to get professionals sharing to social media. He is an internationally recognized speaker on business development through social media, and he has trained more than 15,000 people worldwide. You can learn more at https://clearviewsocial.com or by connecting with him on LinkedIn.com/in/AdrianDayton or on Twitter @adriandayton.