LinkedIn Elevate, once a cornerstone for content curation, sharing, and analytics, set high standards in the employee advocacy industry. Now, as businesses adapt to its absence, the journey to identify a robust LinkedIn Elevate alternative intensifies. At this point, all roads lead to Clearview Social. Let's find out why. 
What is LinkedIn Elevate?
LinkedIn Elevate was a tool by LinkedIn that acted like a special company library. Here, employees could gather important articles, news, and company updates. They could then access this collection and easily share these pieces with their LinkedIn contacts.
What set LinkedIn Elevate apart was its ability to show companies how well their content was doing. For instance, a company could see how many people were reading and interacting with the articles their employees shared.
Another neat feature was that Elevate could suggest specific articles or posts for employees to share. It made these suggestions based on what their LinkedIn contacts were interested in, making it more likely for the content to get attention.
However, in December 2020, LinkedIn discontinued Elevate as a separate entity. Instead, they added its powerful features directly into the LinkedIn Pages experience. This move aimed to provide a more integrated approach to content sharing and brand amplification on the platform.
Post-
LinkedIn Elevate Shutdown
: The Business Challenge 
Many companies found themselves at a crossroads. Elevate had been a pivotal tool, providing a seamless way for employees to curate content and amplify the company's message across their networks. Its centralized content hub and analytics capabilities allowed businesses to distribute content and measure its effectiveness. They could gauge critical metrics such as reach, engagement, and conversions.
The LinkedIn Elevate shutdown meant companies had to reassess their digital strategies. While LinkedIn integrated some of Elevate's features into LinkedIn Pages, it wasn't a direct replacement. Businesses now face the challenge of either adapting to this new system or exploring LinkedIn Elevate alternatives. This transition demanded technical adjustments and potential retraining for employees. 
Choosing the Perfect
LinkedIn Elevate Replacement
After LinkedIn Elevate was discontinued, many businesses sought a solution that could match Elevate's capabilities or even exceed them. They found the perfect LinkedIn Elevate alternative in Clearview Social. So why is this cutting-edge employee advocacy software the preferred choice?
Here are the top ten reasons to switch from LinkedIn Elevate to Clearview Social for your sharing needs: 
1. LinkedIn Elevate has been canceled
They've gone the way of Google+. Read more about it here. Some of the features of LinkedIn Elevate live on in LinkedIn Pages. But from what LinkedIn themselves have reported, it's a highly stripped-down version of Elevate. 
2. Pages has no customer support 
Have a problem with the new Pages features? Need help with any of it? You would have better luck getting the President of the United States on the phone. Pages have the exact same support (or lack of it) that you currently get on LinkedIn.com. With Clearview Social, however, you will have an industry-best sub-two-minute response time using our on-page chat features when your users or marketers need help.
3. Say goodbye to analytics
LinkedIn Pages has extremely limited features, including greatly reduced analytics pages. Clearview Social, however, will not only provide you with every data point you need, and some you didn't even know you were missing (like Earned Media Value and Social Score). They will also integrate with your CRM and provide complete data exports via PDF or API.
4. Wait, what happened to the training? 
With LinkedIn Pages, there isn't any live training or hands-on help for your users. With Clearview Social, we have custom training and contests to help companies dominate social by getting their employees to share effortlessly. Our average organization sees over a 1000% increase in inbound traffic from social media within 90 days of launching, thanks to our Social Media Ramp-up training included with our software.
5. Pages made sharing complicated again
Want your users to share content in one click? Forget about it. With Pages, one to two additional steps are required for each share an employee chooses. However, Clearview Social pioneered the "one-click share." Your employees simply open the email prompt and click "share" on their article of choice. In one click, the item is scheduled for sharing at the best time of day. It also coordinates automatically so employees of the same organization don't share at the same time.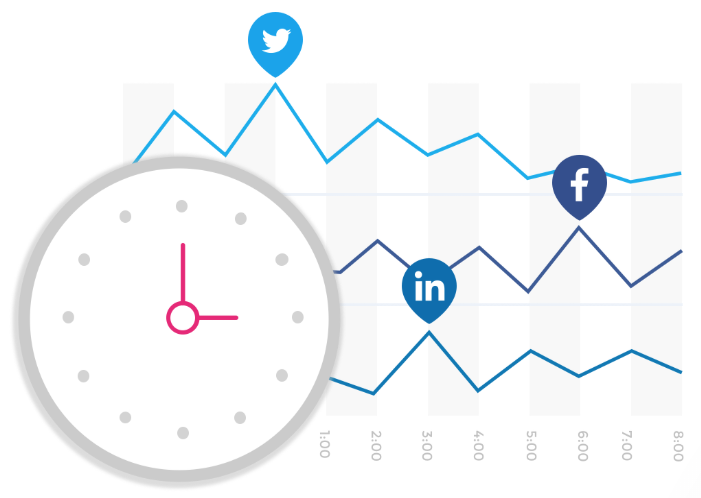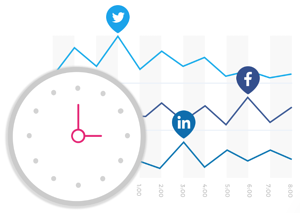 6. Pages doesn't optimize sharing times
At Clearview Social, we have developed the most intelligent sharing algorithm on the market. Through AI, it actually learns to improve the scheduling of your shares every single week. This isn't a one-time-fits-all approach, either. PeakTime™ constantly looks for the peak traffic windows to optimize the traffic you receive when you share. 
There are tons of tools that will look for high-traffic times. But what really sets PeakTime™ apart is that it takes into account the same articles being shared by others in your organization. Then, it will stagger out shares across multiple peak times to get the most bang for your buck out of sharing.
7. One size fits one
With Pages, you can't customize templates, add graphics, and turn email queues into company newsletters. You're stuck with LinkedIn's branding and their idea of what looks best as your organization's internal communication vehicle. Clearview Social, on the other hand, gives you complete creative freedom. We partner with you to ensure that the messaging you send within your organization aligns with your brand guidelines and personality.

8. No "Share All" Button
With each batch of articles you send out on Clearview Social for your employees to share, there is an option to "Share All." This button schedules out a full week of social media posts at excellent times. It can load up your entire week with posts shared at ideal moments to make you look like a social media superstar. Pages doesn't have anything like this.
9. No Client Success Manager 
The moment you launch, Clearview Social will have a dedicated Customer Success Manager to guide you through every step of your social media strategy. We understand that having tools you don't know how to use is almost like having no tools at all. We aren't in the business of selling you software, but we are in the business of helping you change key behaviors within your organization. Pages is going to leave you to figure it out for yourself.
10. You are no longer in control 
Pages decides how to display your images, headlines, and summaries based on the meta-data and open graph tags on your pages. You won't have control over how your employees share content. At Clearview Social, not only can you customize every piece of the meta-data, but you can also customize per social network. Want different hashtags for LinkedIn and Twitter? Easy. Want different personalities in the headlines and comments? No problem! With Clearview Social, we give you complete control over all of this so you can be confident that your people and your company will always look great.
A Final Note
With the closure of LinkedIn Elevate, businesses face the pivotal task of transitioning their digital strategies. Without a doubt, Clearview Social is the clear LinkedIn Elevate alternative. 
So make that crucial change—experience the Clearview Social difference. Together, let's ramp up your employee advocacy efforts today!